The Backup Informer is a step by step action plan for finding AND applying a backup solution that works best for you.
Easy to understand, easy to do.
FYI: The iTunes store doesn't replace songs
Let's face it, today the information on our computers are key components of our identity. Pictures, projects, work, music, it's all there. Fact is despite experiencing anger and irritation at the loss of this valuable and expensive data, WE STILL DON'T BACKUP. According to Symantec, only a third of internet users (34%) back up their content on a regular basis, you're more likely to check the oil and water in your car than back up your computer. It's not your fault either, how do you know what solution to choose? What's the best, what's the cheapest, what's the easiest? That's what this guide is for. It's time you start backing up, and we'll show you how.

The Perfect One Time Solution
Quickly and intelligently you'll narrow down what type of backup software is best for you then pinpoint painless solutions to set up and automate the process of backing up your photos, your music, your projects, and more.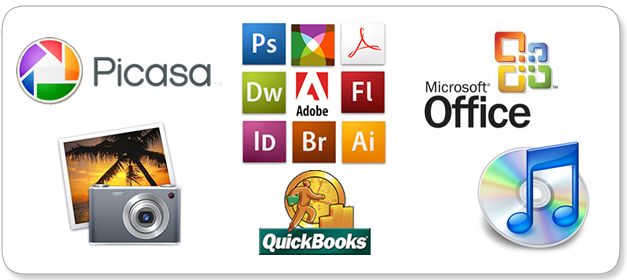 "My entire empire is being built off my computer. The graphics I have stored, the premium videos I have downloaded, business documents I have saved over time, etc.,etc. are all stored within the hard drive of my computer. Technology is one of the best assets I have in my arsenal but we can't always rely on the longevity of it. Rob takes you step-by-step on how to safely backup your entire computer (both MAC and PC users) along with a member center with bonus content. Backup Informer reveals all the best products to use and urges you to backup today along with detailed action steps. I'm ordering an external hard drive today! "
Never lose your memories again. Every solution is fully explained and set up only once. Gone are the days of catastrophic paper loss and asking all your friends for their pictures of your birthday party.
The Backup Informer Package - No Tech Skills Required
If you can surf the web, you can back up your computer. Preview the exclusive, easy to follow guide.
The Backup Informer Decision Path

- a one page document that will allow you to quickly identify what backup solution is best for you. Free? Paid? It's all covered. ↓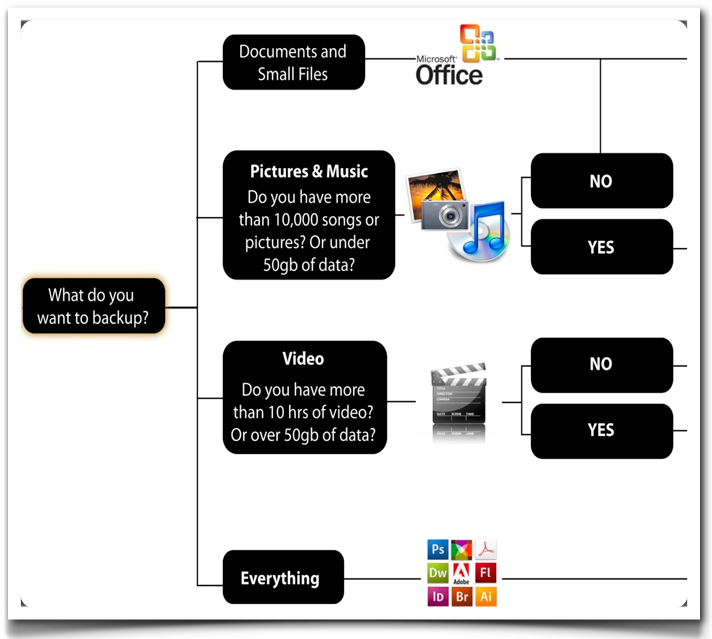 The Backup Informer Service Guide

- should you use a free online service or large external backup? Dropbox or Carbonite? I've done the research, I know the latest tools and I explain them in plain English. You'll know exactly what you need and how it works. (hint: we use lots of pictures and how to videos) ↓

The Backup Informer Set-up Guide

- master setting up your backup software so it's a once and done deal. Backup everything you want, nothing you don't, do it once and rest assured you'll have a backup when you need it. Easy, non-technical instructions, video, and support that anyone can follow. ↓

Quickly identify what you want to backup and what option is a perfect fit .
There's a lot of solutions out there, but which are the best for you?, the answers are clear when you know what to look for. The Backup Informer helps you narrow down exactly what type of computer user you are, and how much you have to back up. We point you straight to the best options, and then tell you how to use them. Here's what others are saying.
"I remember a few months back when my Mac crashed. Being an online entrepreneur, I didn't just lose some iTunes tracks, I was in danger of losing my entire business from videos to reports to a book draft. Luckily I was able to save the hard drive before I totally lost everything. After reading Rob's Backup Informer I know it's not a someday thing, but an everyday thing. And to top it all off, it's pretty damn easy to do. Go grab this book now if you consider your laptop your life! I know it is for me!"
"This is stuff that I know only a little about and am even less interested in finding out about... but it's so crucial! I have a bunch of creative projects on the go all the time and I'd be devastated if I lost my data, so really, I can't afford to have my head in the sand. Rob, thanks for laying it out clear and simple and making it easy for me to just paint in the numbers to set up a good back-up system quick-quick, so that I can get back to doing what I really love doing - and rest assured that my creations henceforth will be safe."
"Are there free guides out there? Yes. Do they suck? mostly. Is it fun clicking on 10 links off google only to find a question in a forum with no answer? No. Do most quickly blog posts on back-up strategy leave out half the story? Yes. Would someone truly concerned about their data integrity really trust what they read on forum from 10 months ago from some nameless punk? No. Would that someone feel better purchasing info from someone who a) has true expertise b) has a solid track record participating in a community c) is actively involved in helping people for free d) has been recommended by someone they trust? YES!"

"This information advised me on the best way to protect my information and the recommendations were conveyed in layman's terms for understanding. I am someone who needs to comprehend and be able to apply someone's suggestions...I purchased my Western Digital portable hard drive for my Time Machine backup and now feel confident in the protection of all of my invaluable information."
Save Yourself Worry
No technical skills necessary – setup is as easy as surfing the web
Never be dependent on someone else's knowledge
Make a custom backup solution that fits your needs
Know that your data and memories are safe
The Backup Informer

Set-up Guide

locks in your confidence. You'll know exactly what to do, and that your files are in more than one spot.
Save Yourself Money
Stop repurchasing movies, music and software
No more backup CD's/DVD's
Invest in your own expertise
The Backup Informer

Decision Path

could save you hundreds of dollars. Most paths lead you to a reliable free or low cost solution and all of them back up costly iTunes songs, movies, pictures and computer software.
Save Yourself Time
Setup takes an hour or less
Automate your backup – no more emailing or uploading files
Increase uptime, get more work done
Keep your data as mobile as you are
The Backup Informer

Service Guide

does all the searching and thinking for you. Insider tips and cheat sheets on the best backup solutions available so you'll never be hunting through your e-mail or guessing about what to do to have your files where you need them and when.
Save Yourself
Your data is too important to risk. Give yourself complete peace of mind today. Finally be able to say, yes I'm backed up when catastrophe hits.
The fact is, we are all different and so our digital lives are all different. Student, mom, media junkie and working professionals all have different types of files. Different needs call for different backup plans. The solutions are easy to set-up but knowing where to start can be confusing. The answer is knowing what to do and that's exactly why the Backup Informer was created.
Peace of Mind

Guaranteed Satisfaction
Complicated System

Low Quality Content

100% Zero-Risk Beating Heart Money Back Guarantee

Try The Backup Informer with absolutely zero-risk. If for any reason you are unsatisfied, simply request a 100% full refund for the entire purchase price.
If, after you've explored the material, you decide that it is not satisfactory, simply request an immediate refund!
"Rob and the IT Arsenal Team have done a phenomenal job in laying out the easiest, most stress-free route to safely and quickly back-up your hard drive. I have to be honest – I didn't do it regularly, but The Backup Informer made me a believer. Backing up my hard drive seemed to be a massive chore. I would continuously put it off, even though I knew I was dancing with death in today's digital world. The Backup Informer totally changed my view point on the process. I seriously had no idea it was that easy to get everything backed up in a timely fashion. Awesome."
Questions?
If you still have questions, or would like to talk about backing up, drop me a line at
rob[at]itarsenal[dot]com
Cheers,
Robert Granholm www.itarsenal.com